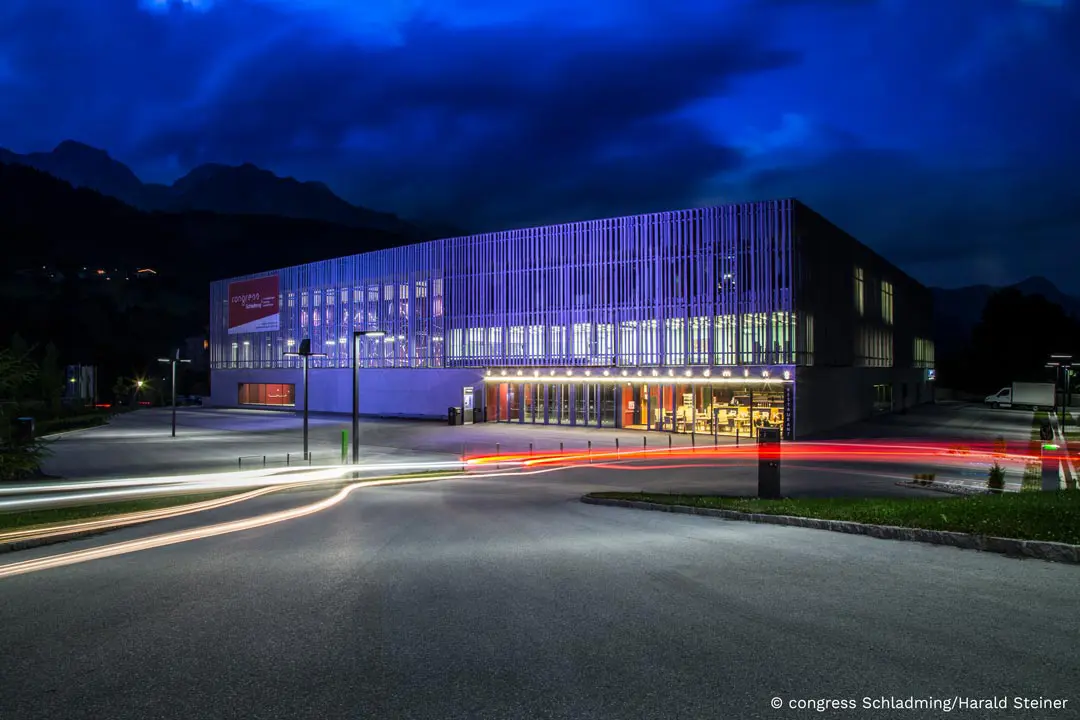 To reduce the maintenance and administration expenses for the underground car park at Congress Schladming (Austria), it was time for a system upgrade. Arivo's ticketless, freeflow parking solution was chosen to meet the congress's requirements, handling peak-hour traffic, offering flexible tariffs, and providing simple discount management.
The underground car park at Congress Schladming provides 80 paid parking lots for its numerous visitors, with peak activity at the start and end of events. Additionally, day parkers from the nearby swimming pool and medical center can use the parking garage for free.
Switching from a conventional ticket system to Arivo's freeflow system
Previously, the underground car park was equipped with a classic ticket system, which caused high operating costs. Errors in barrier opening and coin terminals led to high maintenance costs. The handling of cash and the 24-hour emergency call service were time-consuming.
Arivo's Freeflow parking solution has significantly simplified and streamlined management. As the system has no moving parts, maintenance costs have been reduced to a minimum. Cashless operation eliminates the need for tedious cash accounting.
Removing barriers has improved traffic flow and reduced the waiting times for entering and exiting the garage, even during peak hours. Parkers can either pay at the cashless payment terminal in the parking garage or online via Arivo.Pay. Those parking at a reduced rate can conveniently redeem their discount by entering the license plate number using the Arivo discount tablet at the swimming pool and medical center.
Project realisation with Arivo
During a short test phase, the signage for the new parking system was expanded and optimized. Arivo's support, from planning to ongoing support even after the initial setup, ensures the smooth operation of this modern parking system.

Hansjörg Stocker
CEO
congress Schladming

Ensuring smooth system operation with minimal manual effort is a priority for us. Arivo's modern, barrier-free parking system not only meets but exceeds these requirements satisfactorily. Their service is excellent, and we found dedicated support in developing the signage concept especially helpful. We highly recommend Arivo to anyone seeking a modern parking solution and a reliable partner!
"
The project at a glance

Objective
Modernization & digital solution to minimize operational effort

Parking solution
Freeflow, ticketless & barrier-free incl. Arivo Parking Software

Project scope
Underground car park with 80 parking lots