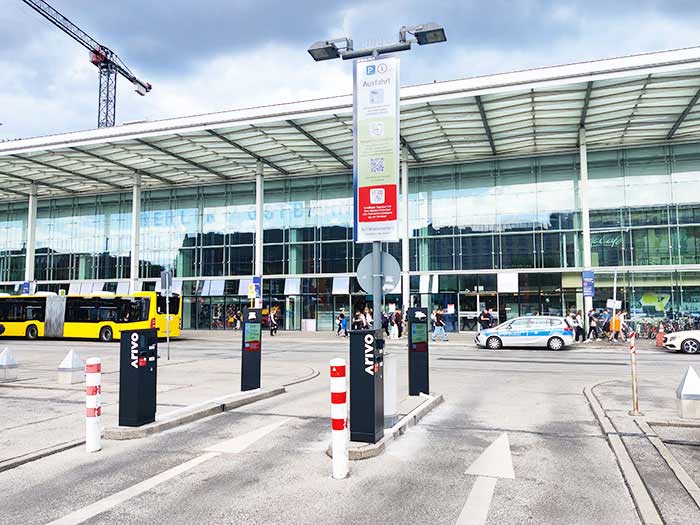 Arivo has revolutionized parking at Berlin Ostbahnhof, making it entirely barrier-free. Collaborating with the Contipark & Interparking Group, the parking process and car park operations have been fully digitalised. On-site digital information displays at the barrier-free entrance and exit pave the way for smooth car park operations.
With 100,000 daily visitors, Ostbahnhof in Berlin Friedrichshain stands out as one of the busiest railway stations in Germany, catering to both travelers and customers of its numerous shopping facilities.
Ticketless & barrier-free with digital info-screens
Arivo's license plate recognition-based, barrier-free parking system presents an efficient solution for adjusting the parking area, consisting of 113 spaces, to accommodate the high visitor frequency. To prevent parkers from leaving without paying their fees, prominent information displays were installed at the entrance and exit, complementing the existing parking columns.

The digital displays are easily interchangeable, offering practicality, especially for tariff adjustments. Upon entering the car park, the system displays the recognized number plate of the car, and upon exit, it shows the parking fee.
Modern payment options
Payments can be conveniently made either online via Arivo.Pay or cashlessly directly at the exit column. Contipark customers also have the option to use the Contipark membership card, PCard, for payment. Long-distance train passengers can scan their ticket at the exit column and benefit from a discounted parking rate.

Arivo's digital parking solution helps to digitally and efficiently manage the car park at Berlin's Ostbahnhof station. The clear displays at the entrance and exit, along with the barrier-free system, ensure a convenient parking experience and smooth operation.
The project at a glance

Objective
Digital parking solution to meet the high visitor frequency

Parking system
Freeflow parking system & Arivo Parking OS

Project scope
Outdoor car park with 113 parking lots & 100,000 daily parkers