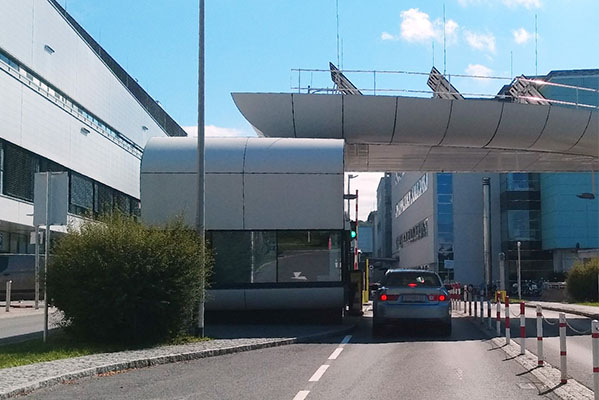 The former parking system at LKH Graz had reached the end of its life cycle due to a lack of updates and the scarcity of spare parts. The new digital parking system was specifically crafted to offer faster and more efficient license plate recognition, seamlessly integrating with the parking fee billing tool.
LKH Graz, with approximately 7,100 employees, stands as one of the largest employers in the Styria region. Therefore, ensuring swift access to the hospital, especially during emergencies at LKH Graz, is of utmost importance. To address this, 24 Arivo cameras have been strategically deployed for automatic licence plate recognition. These cameras record over 31,000 entries each week, encompassing the journeys of rescue services, patients, and visitors. Importantly, all recorded data strictly adheres to DSGVO regulations.
License plate recognition in real time
Emergency vehicles such as police, fire, and ambulances are promptly identified by the license plate recognition system, triggering the rapid opening of barriers. Reliability in functionality is paramount, particularly in emergency situations. Arivo's license plate recognition system has undergone rigorous testing in the harshest conditions, passing all tests with flying colors. Routine software updates ensure its seamless operation going forward.
No problems in challenging situations
Even in challenging situations with difficult angles or obscured license plates, whether due to mud or snow, LKH Graz can rely on Arivo's license plate recognition. This holds true even when emergency vehicles need to move swiftly, as Arivo's technology can handle speeds of up to 70 km/h without issue.

Christian Sixt
Head of Technology at LKH Graz

Whether in backlight conditions or on a wet road, license plate recognition always works extremely well. The recognition quality is truly unique."

The project at a glance

Objective
Faster and reliable access solution for LKH Graz

Parking solution
Barred system with LPR & Arivo Parking OS

Project scope
13 entrances and exits with 6 parking zones