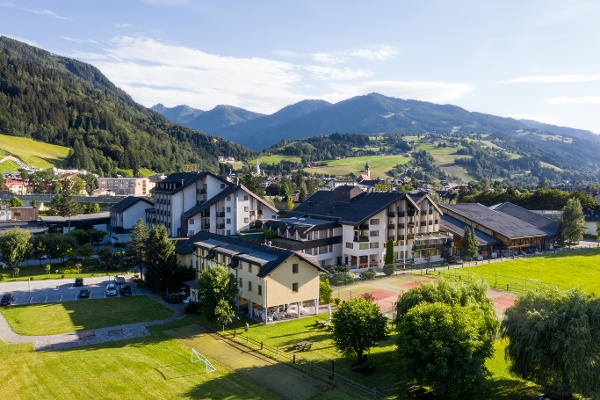 Guests are truly treated like Royals at the Superior Sport and Seminar Hotel Royer in Schladming. Already upon arrival, the digital parking solution by Arivo offers an exceptionally comfortable parking experience. The associated software is the guarantee for the hotel's simple parking management.
At Hotel Royer, guests arriving by car receive an automatic digital invitation in advance to register for automatic license plate recognition. Upon entering the hotel parking lot, the system recognizes the license plate and lifts the barrier. At the same time, the Arivo system alerts the reception of the guest's arrival, allowing them to prepare for check-in.

Innovations through Arivo's software solution
Additionally, the introduction of Arivo's digital parking solution conveniently resolved two other issues: unauthorized use of the parking lot is now prevented, while suppliers and other authorized personnel can still easily access it through Arivo's licence plate recognition, without requiring hotel staff to interrupt their tasks.
In practice, it quickly became evident that Arivo's license plate recognition functions seamlessly and is highly dependable, even in cases of dirty plates or during heavy snowfall.

Arivo's digital parking system provides hotel guests with an exclusive service and greatly streamlines parking management.




Andreas Mayrhofer
Direktor Hotel Royer

Since the introduction of the parking solution, our reception has regained sovereignty over our parking spaces. There's no need to look for unauthorized parkers anymore, and our hotel guests now have plenty of parking spaces at their disposal. In addition, the licence plate recognition makes the administrative work for our suppliers, parcel deliverers, etc. significantly easier. We would purchase the Arivo system again at any time and would be happy to recommend it to others. Even in heavy snowfall or rain, the number plate recognition works perfectly."
The project at a glance

Objective
Parking solution for guests and suppliers & protection from unauthorised parkers

Parking solution
Barred system & Arivo Parking OS

Project scope
Outdoor parking space