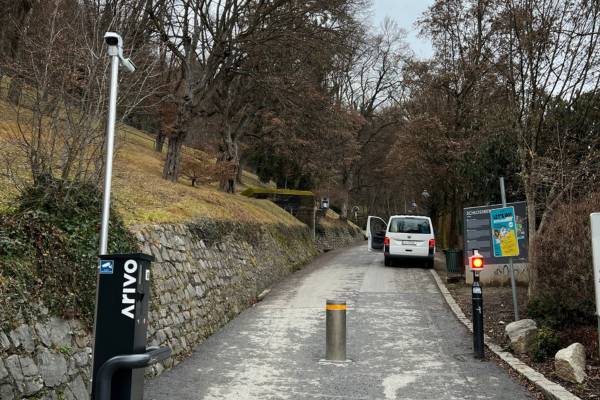 In urban areas, the issue of access regulations for vehicles is becoming increasingly important. Often, only authorised people are allowed to drive in, for example residents or suppliers. To ensure this, Arivo has made it possible to improve access regulations in public spaces.


The city of Graz has now embraced digital vehicle access solutions. Whether it's Messendorfgrund, Sporgasse, Jochen-Rindt-Platz, or Schlossberg, thanks to Arivo's parking system, authorised vehicles can easily enter, while unauthorised vehicles are prohibited from entering. At all locations, Arivo regulates access. At Schlossberg the parking areas for residents are additionally managed with Arivo. Arivo's licence plate recognition-based access solution ensures that only authorised vehicles are allowed to enter.

Various permissions possible
Arivo's software simplifies the management of various user groups, each receiving their own set of access and parking permissions. For instance, suppliers may be permitted entry between 9 am and 5 pm, while regular users have unrestricted access.
A significant advantage of Arivo is the centralized management of all locations through the software interface.
Having recognized the trend towards car-free city centers in European cities, Graz has taken the first steps towards adapting to this shift. With the implementation of Arivo, the city is now better equipped to navigate the potential restriction of vehicle access in specific areas.

Marie Truhlar
Traffic Department Traffic Control & Street Lighting at Stadt Graz

After several successful projects together, we are very satisfied with the service and the technical possibilities of Arivo. The team works in a very customer-oriented, efficient and dynamic way, the software is clear and user-friendly. Even challenging, non-standard requirements are quickly transformed into satisfying and cost-efficient solutions. We are glad to have chosen Arivo as a partner and will gladly do so again for future projects."
The project at a glance

Objective
Access only for authorised people & simple management of different permissions

Parking solution
Barriered parking system & Arivo Parking OS

Project scope
4 locations in Graz: Schloss­berg, Messen­dorfer­grund, Spor­gasse & Jochen-Rindt-Platz