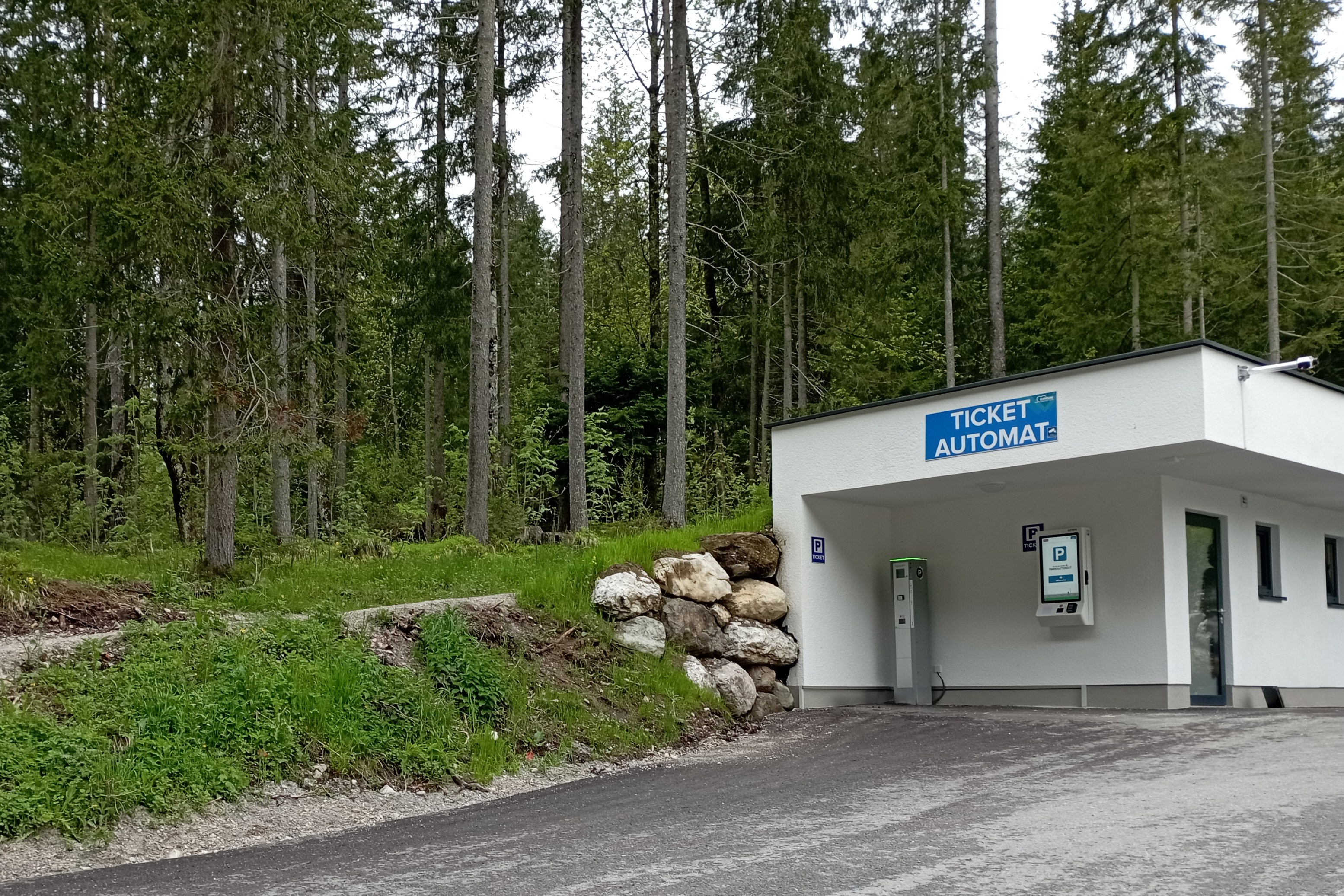 The new parking space by the old mill in Ramsau am Dachstein, Austria, now features a ticketless Freeflow parking system from Arivo. Serving as a starting point for numerous hiking trails and right next to a ferrate, the parking area provides a convenient parking option for international guests and tourists.
The outdoor parking area near the old mill in Ramsau provides 60 paid parking lots for numerous visitors to the tourist region at the base of the Dachstein. Both Austrian and international guests utilize this parking area as a starting point for hiking routes and the nearby ferrata.
Modern parking system without tickets, barriers or cash
When constructing this parking facility, the objective was to incorporate a modern and digital parking system. Tickets, barriers and cash were deliberately dispensed with in order to reduce paper waste and minimise the manual effort required for a 24/7 on-call service or cash handling.

Influenced by positive experiences at parking facilities in the surrounding area, such as the congress Schladming and the hiking parking space in Edelbrunn, Arivo's ticketless parking system was chosen.

Thanks to Arivo's license plate recognition, guests can conveniently enter and park without stopping or drawing a ticket. The parking fee can be easyly paid at the cashless terminal on site by card or online via Arivo.Pay.
Low administrative & maintenance efforts
The Arivo license plate recognition system efficiently reads number plates of international vehicles. The Freeflow system without any moving parts has significantly reduced maintenance requirements. The cashless short-term parking operation and the smart parking management software from Arivo also contribute to saving valuable time in administration.

System adjustments made after installation guarantee its smooth operation. The first feedback following a trial run in the off-season is positive: due to its user-friendliness, parking space users easily handle the new system, encountering no issues.
Birgit Brandstätter
RVB - Ramsauer Verkehrsbetriebe GmbH

The parking lot at "Alte Mühle" is a crucial and popular spot for tourists visiting the Schladming-Dachstein holiday region in summer and winter, and for locals. Thanks to Arivo, we've set up a Park & Go system that works efficiently and hassle-free, allowing online payments via Arivo.Pay. Arivo offers a simple and modern parking solution, and their team is always ready to assist us with advice and support."
The project at a glance

Objective
Management of the new parking area with a digital parking system

Parking system
Freeflow parking (cashless) & Arivo Parking Management Software

Project scope
Outdoor parking space with 60 parking lots