Reininghausgründe: Digital parking system for Q7 in modern city district in Graz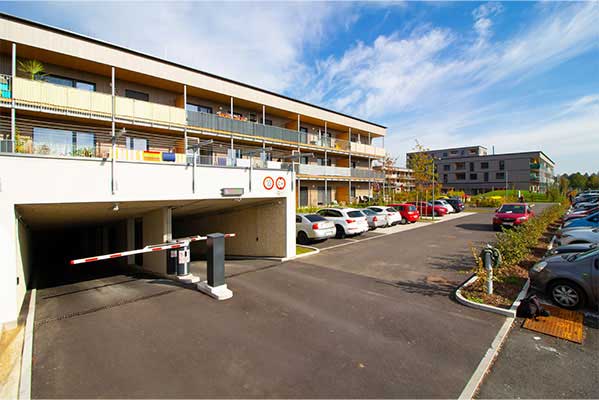 With its location in the most modern district of Graz, the innovative Q7 residential complex is really something to behold. The intelligent parking system by Arivo, tailored for the underground garage, not only guarantees efficient usage for residents but also helps preserve the developer's resources.
Set amidst a spacious area, the Q7 boasts four residential courtyards with over 200 flats, situated in the southern part of Graz's Reininghausgründe. This residential complex stands out not only for its forward-thinking architecture, eco-friendly materials, and ample green areas, but also for its cutting-edge parking solution.
Arivo's reliable management software, in tandem with automatic license plate recognition, ensures the Q7's underground parking operates with exceptional efficiency. The barrier opens seamlessly through license plate recognition, eliminating the need for costly access media and preventing unauthorized access.
State-of-the-art management software
All administration for the underground garage is managed directly by the property management through Arivo's software. Residents have their own customer portal for self-management of their personal information. This proves especially convenient if a car is in for maintenance and a temporary replacement is required. Residents can effortlessly update their license plate number without imposing any additional tasks on the property management.
Smart single parking space monitoring
In Q7, not all apartments have parking spaces available, which means a fixed allocation of parking spots is not possible. To ensure a free parking space can still be found quickly, the Arivo parking system was specifically linked to an individual parking space monitoring system designed for Q7. The parking area is divided into sections, providing immediate information on available spaces.

The fusion of intelligent, eco-conscious living with a dynamic, adaptable parking solution positions the Q7 residential complex as a flagship project for Graz.
The project at a glance

Objective
Smart parking solution with minimal administrative effort

Parking solution
With access barriers & Arivo Parking OS incl. customer management

Project scope
Underground parking garage