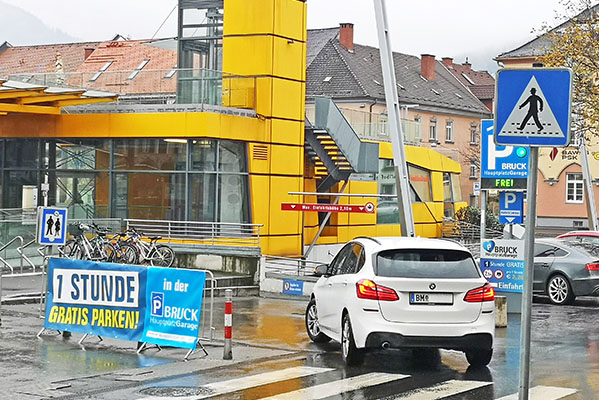 In late November 2019, the city of Bruck an der Mur reinstated the complimentary first hour for users of the garage at the main square. The introduction of this new, contemporary parking concept, alongside the implementation of Arivo's intelligent technology, aims to enhance the convenience of parking in the old town and boost its visitor frequency.
Bruck an der Mur has implemented a parking concept designed to streamline and simplify parking for both business professionals and residents. The reliable parking solution from Arivo manages the entire parking system seamlessly, operating without tickets, and offers valuable insights into the usage of the 200 parking spaces.
Digital Comfort Parking
Arivo´s modern comfort parking offers numerous benefits for parking users. Registered users can conveniently link multiple license plates, smoothly enter and exit the garage without the need to roll down their car window. The system automatically recognizes the license plate.
One hour free Parking
Furthermore, customers receive a clear monthly statement detailing all parking transactions, including the first free hour of parking.

Thanks to Arivo, the days of carefully positioning your car to retrieve a parking ticket in Bruck an der Mur are now a thing of the past. The hassle of searching for the ticket and making your way to the ticket machine has also been eliminated. Arivo has elevated the parking experience in Bruck an der Mur to a whole new level of convenience.

Mag. Christian Mayer
Manager of Stadtkommunikation Bruck an der Mur

The comfortable parking implemented with Arivo is an important component for our new parking concept. With this innovative solution, parking in the heart of our city is convenient and stress-free. With a communication offensive, we will make the advantages even clearer to residents, business people and guests in order to further increase the number of registered users. We are convinced that this smart solution will further increase the frequency of parking in the garage at our main square as well as in the old town."

The project at a glance

Objective
Ticketless, comfortable parking

Parking solution
With access barriers & Arivo Parking OS incl. customer management

Project scope
Underground parking garage with 200 parking spaces