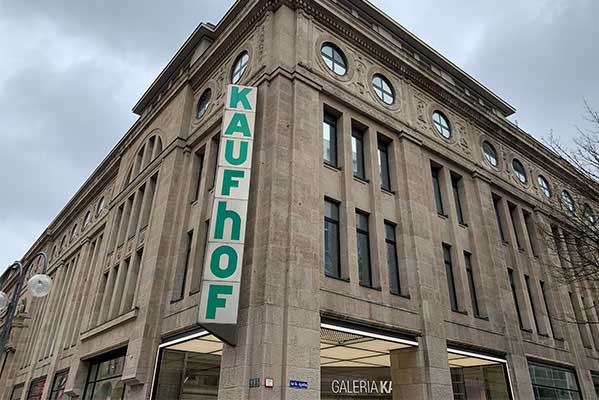 Galeria Kaufhof Karstadt is embracing digitalization and upgrading its parking garages with Arivo's software solution. Already, 14 locations of the department store chain have made the shift to a ticketless and digital parking system, including cities like Cologne, Düsseldorf, and Reutlingen.
Galeria Karstadt Kaufhof GmbH, with a workforce of 17,000 employees, ranks as the second-largest department store group in Europe. By transitioning its parking garages to Arivo's ticketless and digital parking system, Galeria has chosen a contemporary and sustainable access solution. With automatic license plate recognition, customers can now smoothly enter the already digitized parking garages in Cologne, Düsseldorf, and Reutlingen without the need for paper tickets.
Additional benefits for registered users
The environment benefits from the reduction in parking tickets. Parking fees are also paid electronically. Furthermore, holders of the Galeria customer card receive an exclusive perk: they enjoy free parking for the first two hours.
Digital customer management
On galeria.arivo.app, customers can easily register in a few simple steps and swiftly acquire a digital parking contract. The entire administrative process, including invoice collection, is automated, greatly reducing Galeria's administrative workload. For unregistered customers, Arivo provides the option to pay parking fees online. All they need to do is scan a QR code within the parking garage and make the payment using popular transfer tools like ApplePay or GooglePay. This enables customers to settle their fees swiftly and without the need for an extra visit to the payment station, saving them the associated waiting times.
All stores in Düsseldorf and Cologne already equipped
In the Cologne and Düsseldorf locations, the existing barrier system received an upgrade with Arivo's digital parking solution. Conversely, the Reutlingen branch operates without barriers entirely. This parking system stands out primarily due to its substantial cost savings compared to traditional systems. In addition to the initial acquisition expenses, the high-cost maintenance of the barrier system can also be entirely eliminated.
After successfully implementing 14 projects across Germany, Galeria Karstadt Kaufhof is in talks with Arivo regarding the conversion of several more locations.
The project at a glance

Objective
Ticketless & digital parking via license plate recognition

Parking solution
Partly freeflow & partly with barriers; Arivo Parking OS inkl. customer management

Project scope
Parking garages at 14 locations with 400 - 500 parking spaces each