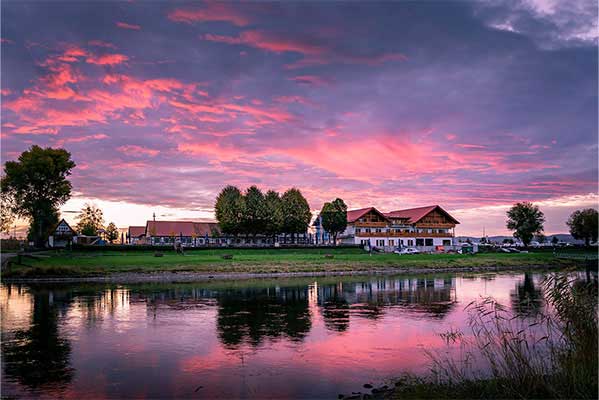 Situated amidst picturesque countryside, right along the banks of the Weser River, the Grohnder Fährhaus boasts a rich array of amenities, including an inn, camping site, and a 3.5-star hotel. Yet, one essential element was still lacking: a modern parking solution that complements the Fährhaus's unique charm. Thanks to the digital parking system by Arivo, guests can now anticipate a truly comfortable journey.
IIn Emmerthal, Lower Saxony, you'll discover the Grohnder Fährhaus—an establishment comprising an inn, campsite, and a newly constructed 3.5-star hotel. What sets it apart right from the start is its hotel guest reception: unlike most hotels, guests can access the parking lot without requiring a parking card or any other access medium, even before checking in.
Reliable license plate recognition
This modern approach is made possible by the Arivo digital parking system. It seamlessly integrates reliable licence plate recognition with intelligent management software, impressing not only with its user-friendliness and transparency but also with its cost-effectiveness.
Comfortable departure thanks to Arivo
Upon completing their booking, guests receive a confirmation email where they can input their car's license plate for automatic barrier access. This allows them to utilize the parking lot throughout their stay and even for a few hours after checking out. Therefore, before departing, guests can savor local delicacies at the inn or enjoy a leisurely bike ride along the Weser.

Future plans include extending the use of the Arivo parking system to the campsite, providing campers with added parking convenience through automatic license plate recognition.

Ronald Kusch
IT Manager Grohnder Fährhaus

I have chosen your system because I find the software simply ingenious. It is clear and easy to use and the fact that the parking permit expires automatically is great!"
The project at a glance

Objective
Convenient access & exceptional parking experience for hotel, inn or campground guests

Parking solution
With barriers & Arivo Parking OS incl. customer management