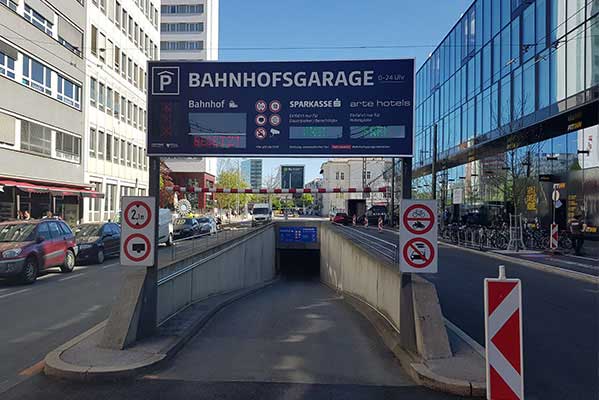 Fiegl+Spielberger partnered with Arivo to introduce a modern parking solution for the ungerground parking garage at the Designhotel Perron in Salzburg. This not only provides guests with a unique and welcoming experience but also stands out for its remarkable design and innovation.
The Hotel Perron has 120 rooms and is located in the middle of the city of Salzburg on Bahnhofsplatz. Only authorised people from the hotel or Sparkasse are allowed to enter. Thus, there was a requirement for the digital garage management, that only authorised people should have access. In addition, it should be possible to clearly distribute the users between the two garage areas for the hotel in UG1 and the savings bank in UG2. Additionally, the capacity of the two garages should be controllable at all times in order to guarantee the safety of the parking spaces.

Automatic license plate recognition
Fiegl+Spielberger, the largest electrical engineering company in western Austria, and Arivo, the expert for digital parking systems, offer an intelligent access solution for this. Three roller shutters are used to prevent access for unauthorised people. Automatic number plate recognition is linked to the control system, which directs parkers to the correct section of the underground parking garage.

Smart parking management software
With the smart and intuitive parking management software by Arivo, the utilisation and capacity of the parking garage can be controlled and optimised at any time. Together with Fiegl + Spielberger, Arivo has already successfully implemented 7 other projects in addition to the Hotel Perron.

Meinhard Berger
Head of Greentec Fiegl+Spielberger

In the first 2 weeks after commissioning, there were already 1,100 entries and exits that worked smoothly. Customers and hotel guests are delighted. Guests receive an invitation to access the parking garage by e-mail or text message before they arrive. This means that they know exactly where it is located. In addition, the reception is informed when guests reach the parking lot and can prepare the reception perfectly."
The project at a glance

Objective
Authorised access only & distribution of parked cars between the garages

Parking solution
Barred & Arivo Parking OS incl. customer management

Project scope
2 underground parking garages