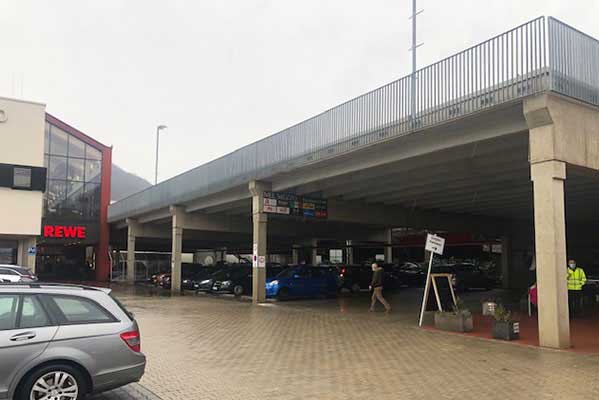 Parken & Management, the car park operator, has adopted ticketless parking and digital payments, with valuable support from Arivo. In Geislingen and Plettenberg, they provide 420 parking spaces tailored to three different customer and pricing categories. Thanks to Arivo's parking solution, the once time-consuming manual administration is now a thing of the past.
As the operator of 20 parking areas in Germany, Parken & Management has embarked on a mission to modernize the parking experience. In pursuit of this goal, they sought a partner capable of providing a high degree of flexibility and an intuitive user interface, leading them to select Arivo.
Smart Freeflow system
Arivo's number plate recognition based parking system was implemented at two locations, boasting a combined total of 420 parking spaces, without the need for physical barriers in either Geislingen or Plettenberg.
The smart solution by Arivo perfectly aligns with the diverse needs of both locations, catering to various customer groups, including long-term parkers, night parkers, and employees. The setup of distinct tariff groups can be effortlessly accomplished with Arivo's user-friendly software interface, even without prior knowledge.
60,000 monthly parking transactions
Notably, Geislingen witnessed a significant impact from the Arivo solution, with 270 parking spaces leading to approximately 60,000 monthly parking transactions. In Plettenberg, with 150 parking spaces, this translated to 7,500 transactions. In partnership with Arivo, a total of 15 projects have been successfully completed so far.

Anton Jais
Regional Manager at Parken & Management

We are always interested in improvement and that's how we came across Arivo. Above all, the quick installation, the intuitive dashboard and the flexibility of the system convinced us. The different setting options were very important to us, as we have different tariff groups. With Arivo's really exceptionally well-done dashboard, we can now easily manage our parking spaces ourselves."
The project at a glance

Objective
Digital, barrier-free parking & easy management of tariff groups

Parking solution
Freeflow system & Arivo Parking OS incl. customer management

Project scope
2 locations with a total of 420 parking spaces