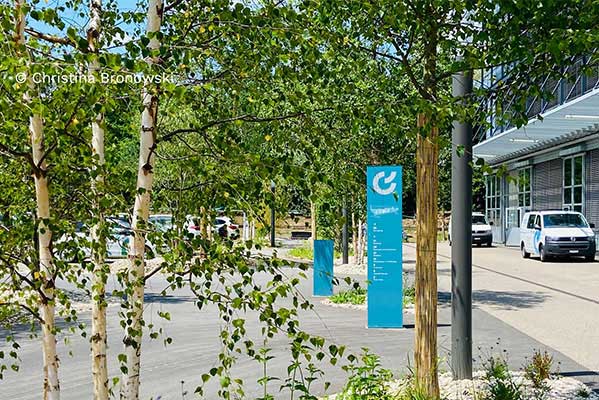 Primeo Energie places a strong emphasis on sustainability, making ecological parking spaces a top priority. To promote the selection of environmentally friendly transportation options, parking, which was previously free of charge, is now subject to fees. Arivo's digital parking solution plays a pivotal role in achieving this objective.
Primeo-Energie embodies the commitment to green electricity for a sustainable future. On the Primeo Energie premises in Münchenstein, Germany, there are a total of 450 parking spaces available, catering to both short-term and long-term parking needs. Previously, parking was offered at no charge, which often resulted in a consistently crowded parking area. As an environmentally conscious company, Primeo Energie sought a parking solution to encourage ecological practices on their premises.

Now, car drivers are required to pay for parking, while bicycle parking remains free of charge. With each car parking transaction incurring costs, individuals are encouraged to make more thoughtful choices regarding their mode of transportation.
Arivo`s Freeflow solution
To implement paid parking, Primeo Energie has employed Arivo's barrier-free Freeflow solution. Employees benefit from a discounted parking rate, with parking fees conveniently deducted from their wages. Other users of the parking lot can efficiently and contactlessly settle their fees online through Arivo.Pay.

Through the management interface of the Arivo parking software, Primeo Energie can closely monitor the transportation modes utilized by parkers, ensuring that the desired shift towards sustainable mobility is progressing as planned.

Christina Bronowski
Project Manager at Primeo Energie

For me, Arivo's system is a great example of lean and sustainable parking management. It is very user-friendly and users can view their parking transactions in their account as well as the current costs. Arivo offers a practical and consistent solution for raising awareness of personal mobility."
The project at a glance

Objective
Paid parking solution for short-term and long-term parkers

Parking solution
Freeflow parking system & Arivo Parking OS

Project scope
Outdoor parking lot with 450 parking spaces