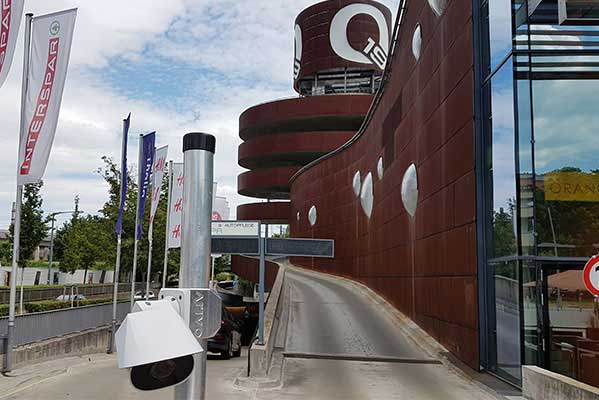 The Q19 shopping center, nominated for the 2006 State Prize for Architecture, stands out not only as a visual masterpiece but also for its innovation and mobility features. Thanks to Arivo's modern parking solution, customers of the shopping centre not only enjoy a great shopping experience, but also a unique parking experience.
In the heart of Vienna's Döbling district, you'll find the Q19 shopping center, dedicated not only to meeting its customers' needs but also to promoting energy efficiency and sustainability. In addition to the existing mobility initiatives, Q19 has now expanded to include a modern parking solution from Arivo.

With Arivo, the highly frequented shopping centre now offers its customers a superior parking experience and thus a better shopping experience.
Automatic license plate recognition
Arivo's licence plate recognition technology has been installed at all entry and exit points. Customers can now effortlessly enter and exit at any time without the need to retrieve a ticket. The system is exceptionally fast, delivering several recognition results per second, and it boasts an impressive live test recognition rate of over 99.5%. This high level of reliability is achieved through the utilization of the latest technology and deep learning algorithms. With such advancements, licence plate recognition is not only convenient but also well-prepared for the challenges of the future.

The Arivo number plate recognition and digital management platform were integrated into the existing parking system to save investment costs. This allowed for the continued use of the existing hardware while still enjoying the benefits of a digital and contemporary parking solution.

Mag. Gernot Jung
Center Manager at Q19



Thanks to Arivo's automatic and dependable license plate recognition, we successfully addressed a significant issue: Re-entering the parking area after two hours of complimentary parking to evade the paid short-term zone is now prohibited. Another invaluable advantage is the statistical analysis, providing insights into our visitors' origins and the shopping center's activity levels at different times. It's important to note that this analysis is conducted anonymously and adheres to data protection regulations."
The project at a glance

Objective
Modern parking system that can cope with the high frequency of visitors

Parking solution
Barred version & Arivo Parking OS

Project scope
Underground parking garage with 610 parking lots