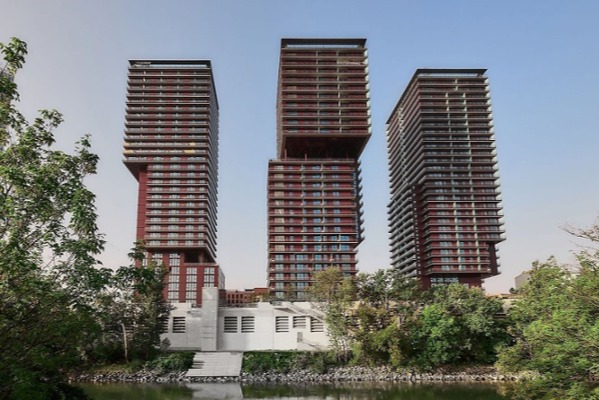 The TrIIIple complex in Vienna, boasting three cutting-edge residential towers, has recently been honored as the "Best Tall Building in the World" by the Council on Tall Buildings and Urban Habitat. This recognition highlights the importance of having an equally intelligent parking solution for its underground car park.
The TrIIIple complex in Vienna not only aligns visually with an innovative and ultra-modern concept. It also utilizes water from the Danube Canal for heating and cooling, sourced from a wind-powered river water plant. This high level of innovation calls for a modern access solution for its 379 parking spaces, which is why Arivo's parking solution was selected.
Smart intuitive system
Upon moving in, TrIIIple's residents register their license plate number, which serves as their access and parking credential. Keys, remote controls, and similar items are now a thing of the past. Even facilitating entry for visitors poses no difficulty, thanks to the reliable license plate recognition.

Arivo's parking system, lacking any moving parts, requires remarkably low maintenance compared to other systems. Furthermore, end users don't need any physical access credentials, further reducing the risk of wear and tear.

Arivo's modern access solution serves as a fitting extension to TrIIIple's innovative living concept, perfectly complementing the overall project.

Thomas Sturm, MA BSc.
CEO of ima Immobilien Management GmbH

For me, the Arivo system is a great example of lean and sustainable parking management. It is very user-friendly and every user can see the parking transactions made and the current costs in his or her account. It is therefore a practical and consistent solution for raising awareness of personal mobility."
The project at a glance

Objective
Modern parking solution that aligns with innovative concept

Parking solution
With access barriers & Arivo Parking OS incl. customer management

Project scope
Underground parking garage with 379 parking lots